The UCSB Anthropology Department is proud to
 commemorate 
WORLD ANTHROPOLOGY DAY 
with an 
OPEN HOUSE CELEBRATION
Thursday, Februrary 18th, 4 - 6 pm; 

2001 Humanities and Social Sciences Building (HSSB) 

• UCSB Main Campus
Next to the Thunderdome; Visitor Parking is available in lots 22 or 27 (map & directions below)
Free event  • Family-friendly activities • Hors d'oeuvres • No need to RSVP!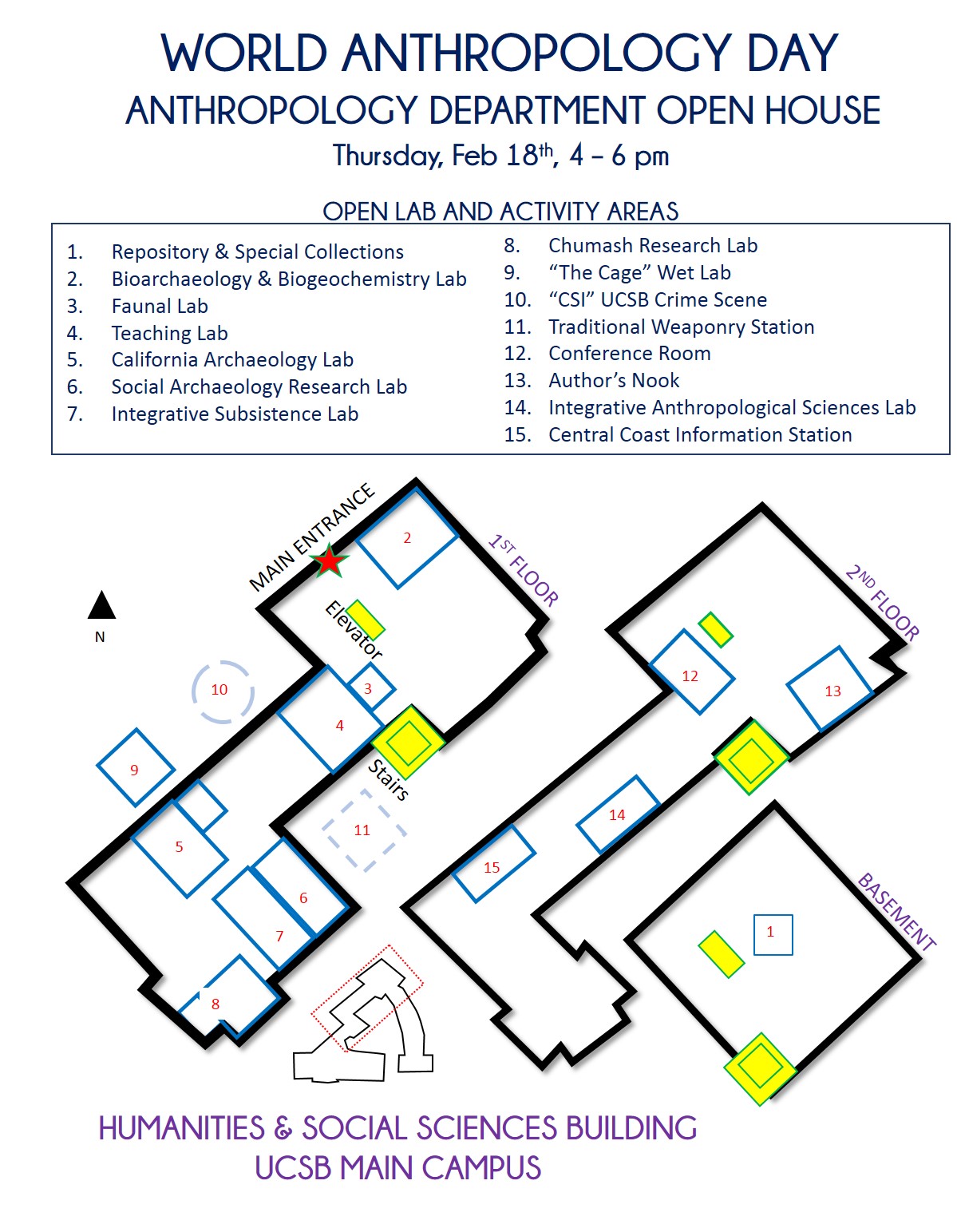 DIRECTIONS & MAP TO HSSB 
FROM THE 101 FREEWAY
Exit the 101 freeway at the Route 217 ( Airport / UCSB) off-ramp (~8 miles north of Sta Barbara) and proceed through the Henley Gate at the east campus entrance. Veer right onto Mesa Road and proceed ahead to the third traffic signal, Ocean Rd. Turn left onto Ocean Rd and continue past the Rec Center. At the bus loop, Ocean Road will veer to the right. Stay on Ocean Rd until you reach the stoplight at the intersection of Ocean and El Colegio Road. 
Make a left on El Colegio Rd to park in Lot 27; the entrance will be 1/8 mile on your right.
To park in Lot 22, continue on Ocean road through the El Colegio Rd intersection; the entrance to the parking garage will be about 1/4 mile ahead on the left.
Park in either visitor lot and purchase a permit to be displayed in your vehicle while on-campus.
To get to HSSB/Anthropology Department from the parking lots: Follow the sidewalk; keep the Thunderdome on your right, HSSB will be directly in front of you, room 2001 is on the second floor. Signs and student docents will be waiting to greet and direct you.