Event Date:
Friday, March 9, 2018 - 3:30pm
Sigue el llanero, el llanero sigue: Transiting Genizaro homelands and contested querencias in northern New Mexico
Gregorio Gonzales
Despite a sustained interest in the formation of Genízaro identity in northern New Mexico during the eighteenth and nineteenth centuries, little has been done to address its collective persistence and maintenance today. Whether serving as the corporeal buffer zones between Native and colonial nodes of power as Indigenous slaves, settlers, or military scouts, Genízaros continue to be recognized for our historical presence and contemporary absence. Yet nestled in the Rio Chama and Taos valleys of northern New Mexico, individuals, families, and communities maintain Genízaro identity as a continued experience—myself included. These tensions indeed motivate this presentation to consider the realities, pitfalls, and potentialities of academic knowledge acquisition and production among Genízaro communities peculiarly situated along the margins of settler states and tribal nations. Particularly, this talk will consider the role of orality within Genízaro articulations of Indigeneity and belonging in northern New Mexico, as well as its discursive trajectory within Genízaro identity studies.
Dr. Gregorio Gonzales is Genízaro and a 2017–2018 University of California President's Postdoctoral Fellow in the Department of Anthropology at the University of California, Santa Barbara. Earning his Ph.D. in Sociocultural Anthropology, with a Thematic Emphasis in the U.S.-Mexico Borderlands, as well as Graduate Portfolios in Mexican American and Latina/o Studies and Native American and Indigenous Studies from The University of Texas at Austin in 2017, Dr. Gonzales's research interests include the politics and conditions of race, ethnicity, and indigeneity within the US Southwest borderlands. In 2016–2017 he was the Katrin H. Lamon resident scholar at the School for Advanced Research, and currently serves as an ambassador for Americans for Indian Opportunity. Dr. Gonzales's work can be found inside and outside of academic spaces, including the American Indian Cultures and Research Journal, the New York Times, and NPR.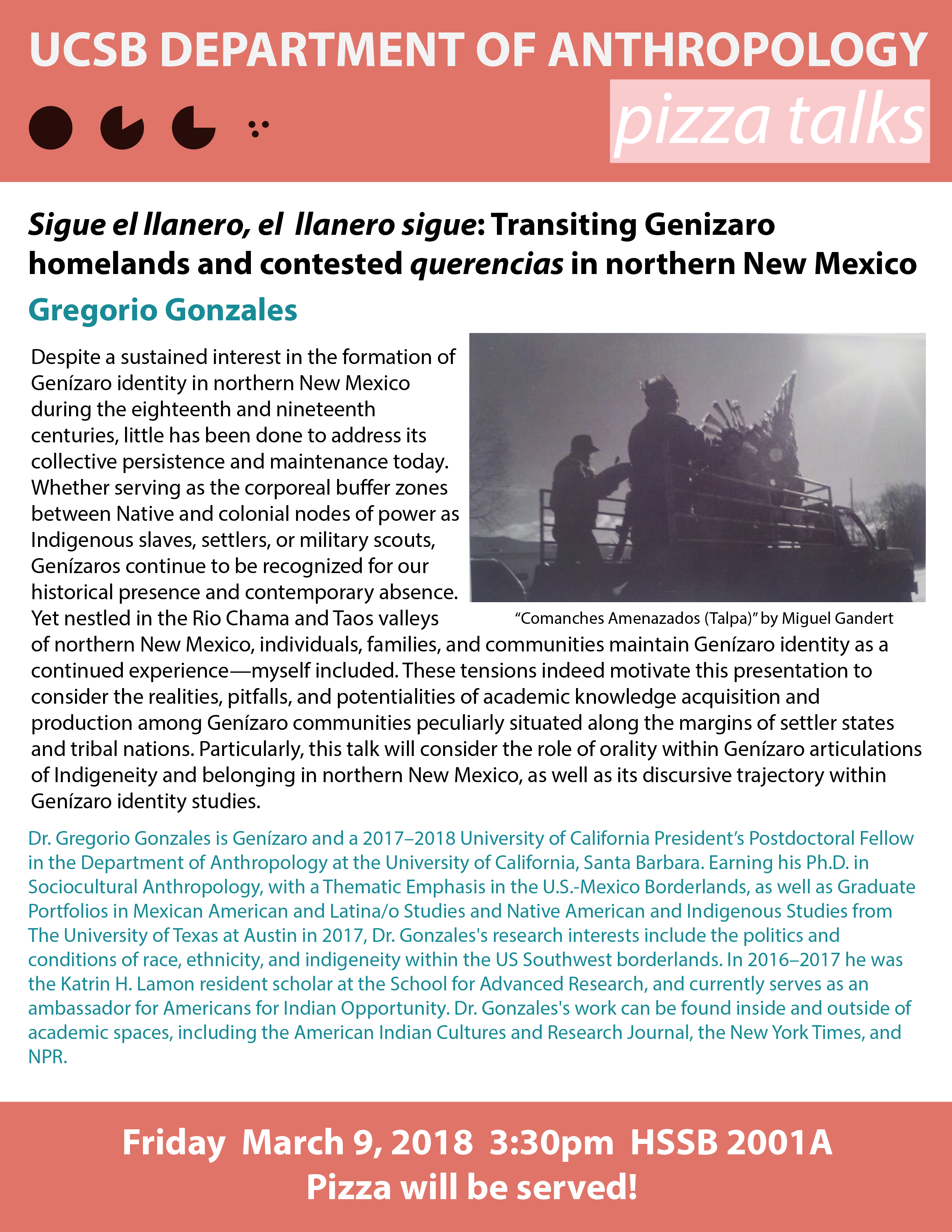 March 1, 2018 - 9:49am