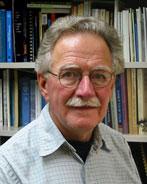 Professor Emeritus
Research Professor
Specialization
:
Archaeology, cultural ecology; western North America
Education
:
PhD, University of California, Los Angeles
Research
:
Professor Glassow's research is focused on a period of prehistory of the Santa Barbara Channel region between 7,000 and 5,000 years ago. He is interested in how populations adapted to changing environmental conditions during this period, particularly with regard to their subsistence practices and settlement patterns. Much of his research has entailed investigating habitation sites on Santa Cruz Island, but he also has investigated mainland sites dating to this period.
Publications
:
Purisemeno Chumash Prehistory, Maritime Adaptations along the Southern California Coast. Case Studies in Archaeology. Harcourt Brace, Fort Worth, 1996.
The Punta Arena Site: Early and Middle Holocene Cultural Development on Santa Cruz Island, coauthored with J. E. Perry and P. F. Paige. Contributions in Anthropology 3, Santa Barbara Museum of Natural History. 2008.
Alluvial History and Human Prehistory in Pozo Canyon, Santa Cruz Island, California. In Proceedings of the 7th California Islands Symposium, edited by C. C. Damiani and D. K. Garcelon, pp. 53-65. Institute for Wildlife Studies, Arcata, 2009.