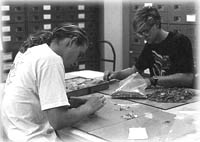 The Anthropology Honors Program is designed to facilitate individual research on topics chosen by the student and pursued in particular depth. Qualified majors will be invited to participate in the Anthropology Honors Program.
Minimum qualifications are junior standing (completion of at least 105 units), completion of at least 20 upper-division units in anthropology, and a grade-point average of at least 3.4.
Students must enroll in ANTH 195A during Spring Quarter of their Junior Year. Each candidate for honors then enrolls in Anthropology 195 B & C taken in consecutive quarters, under the instruction of a thesis advisor chosen by the student and approved by the department. In 195A, the student will formulate a research problem that they will pursue for the duration of the program and begin to conduct background research that will frame their research project. In 195B, the student will concentrate on reading and gathering material for the thesis. Lastly in 195C, the student will write the thesis. The Anthropology Honors thesis will be retained permanently in the department office for faculty and students to read.
Anthropology students who complete the honors program, maintain grades of B or better in Anthropology 195A, B & C and graduate with a minimum 3.4 grade-point average in the major will be awarded Distinction in the Major on university records and on their diploma.
College of Letters and Science Honors Program
Students enrolled in the College of Letters and Science Honors Program will be eligible to enroll in special honors discussion sections in some lower-division anthropology courses. See the Undergraduate Adviser for more information.