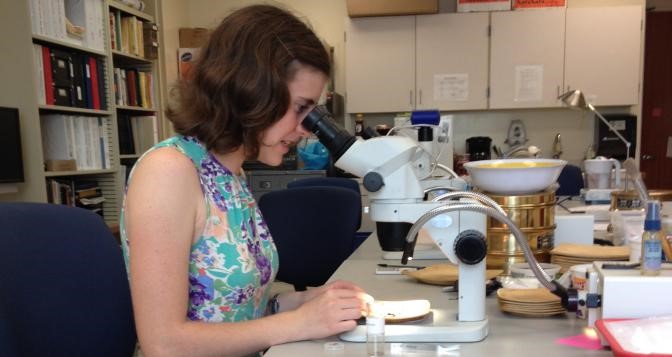 For over half a century, the Department of Anthropology at UCSB has been an active and vibrant center of research, mentorship and teaching.
We invite you to join us.
Prospective Students
All prospective students wishing to ultimately pursue a PhD must apply to the MA/PhD program. Applicants are admitted to the MA/PhD program with the expectation that they will meet the requirements for the M.A degree and advance to complete the PhD degree. Students entering the program with or without an MA in Anthropology must first satisfactorily complete all the requirements for our department's MA degree and then may be invited to work toward the PhD degree. 
Students develop their dissertation topics in consultation with their PhD committees and submit research proposals by the end of the third year of study. Students entering with an MA degree from another institution normally prepare a research proposal during their second year at UCSB. Acceptance of the dissertation proposal and satisfactory completion of an oral examination permits the student to advance to candidacy. The research proposal can also form the basis for applications for research funding. PhD students in both archaeology and sociocultural anthropology must spend at least 3 quarters doing fieldwork. The field research normally forms the basis for the dissertation in both programs.
Admissions Criteria
The criteria used in judging applicants are grades, letters of recommendation, statement of purpose and the writing sample. The faculty considers carefully the merits of each application and no set formula for admission is applied. All applicants must complete the Online Graduate Application. Please carefully read the instructions below and within the eApp portal to ensure that you correctly complete each section of the application. 
Graduate Program Coordinator
Faculty Graduate Advisor
Associate Professor
Graduate Admissions
Research Compatibility
Applicants are encouraged to review faculty and our research areas and contact faculty with similar interests as your own. If you wish to visit the department, we invite you to contact faculty directly to set up meetings.
It is very important to indicate in your Statement of Purpose which faculty member(s) you are interested in working with to be specific about which research areas you are interested in. Sharing research interests, as well as communicating your career interests, can enhance the willingness of a faculy member to sponsor and mentor your research.
Questions?
For more admissions outreach and information, prospective graduate students can visit UCSB Graduate Division.
Please also visit the Frequent Asked Questions for both the Department of Anthropology and UCSB Graduate Division.
If you do not find answers to your questions on this page or in any of the FAQs, please contact the Anthropology Graduate Admissions at gradadmissions@anth.ucsb.edu.
Other Helpful Links:
Anthropology Application Checklist 
For the 2023-2024 Academic Year, the Application Deadline is December 4, 2023, 11:59 pm PST
Please also visit the UCSB Graduate Divsion wesbite: How to Apply or see above for other helpful links.
Application Fee:

The non-refundable graduate application fee is $135.00 for US citizens and Permanent Residents; and $155.00 for all others, paid in US dollars by check, money order, or credit card. 

No application will be processed until the application fee has been received. This fee can be paid by credit card or with a check/money order using the Check/Money Order Submission Form found on the last page of the application. 

A limited number of Application Fee Waivers are available to qualified U.S. citizens and permanent residents who demonstrate evidence of financial need or proof of participation in an undergraduate research program. A fee waiver can be found within the online application.

Official transcripts: 

PLEASE NOTE: YOU DO NOT NEED TO SEND COPIES OF YOUR OFFICIAL TRANSCRIPTS TO THE DEPARTMENT OF ANTHROPOLOGY UNTIL YOUR APPLICATION IS ACCEPTED. 
​During the initial phase of application process, simply upload one copy of official transcripts from all post-secondary institutions attended into the application system. 
If your application is accepted by the Department of Anthropology, you will then be required to submit single copies of Official Transcripts to UCSB Graduate Division to verify your enrollment eligibility. 

Statement of Purpose:

A brief statement outlining your reasons for undertaking a graduate program, your particular area of specialization within the major field, your past academic work, and your plans for future occupation or profession. Also include any additional information that may assist the selection committee in evaluating your preparation and aptitude for graduate study at UC Santa Barbara. Your statement should demonstrate a clear focus of research interests including both geographical and topical specialties. Approximately two pages or more is typially recommended. 

Personal History and Diversity Statment:

UC Santa Barbara is interested in a diverse and inclusive graduate student population. Describe any aspects of your personal background, accomplishments, or achievements that you feel are important in evaluating your application for graduate study.
For example, please describe if you:

Have experienced economic challenges in achieving higher education, such as being financially responsible for family members or dependents, having to work significant hours during undergraduate schooling or coming from a family background of limited income.
Have any unusual or varied life experiences that might contribute to the diversity of the graduate group, such as fluency in other languages, experience living in bi-cultural communities, academic research interests focusing on cultural, societal, or educational problems as they affect under-served segments of society, or evidence of an intention to use the graduate degree toward serving disadvantaged individuals or populations.

Your Personal History and Diversity Statement must be written in narrative (essay) form without duplicating content from your Statement of Purpose. A minimum word count of 250 words is required. There is no maximum length requirement. Most statements are typically 1-2 pages. 

Curriculum Vitae (CV):

Our department strongly prefers the inclusion of a Curriculum Vitae (CV). A CV provides a comprehensive history of your academic credentials, showcasing your educational background, research experience, and any relevant achievements. We believe that a CV offers a more detailed overview of your qualifications, allowing us to better understand your academic journey and accomplishments. Therefore, we encourage you to submit a well-prepared CV along with the other required application materials. ​

Three Letters of Recommendation: 

Letters should ideally come from professors who know the applicant's work very well and who can comment in detail. Letters should be requested and submitted through the online application process.

Writing Sample: 

​​This should be a paper or thesis with a minimum length of 10 double-spaced typed pages prepared for a course or to satisfy a degree requirement.
The applicant should be the sole author and editor of the paper or thesis.
The cover page should specify the course or degree requirement for which the paper or thesis was written, as well as the name and institutional affiliation of the faculty member who graded or reviewed the paper.
Applicants who have not attended college for some time and therefore do not have a course paper or thesis, may submit a nonacademic writing sample of comparable length, so long as a specific person in a position of authority can verify that the applicant is the sole author and editor of the paper.
Please add the writing sample as an "Other Type of Document," that can be found by using the Document Type dropdown menu in the application.

TOEFL/IELTS:

Scores are required of any student with a bachelor's degree from a foreign university or if English is not his/her or their native language.

GRE:

We do NOT require the GRE.
Checking the Status of Your Application
Please check the status of your application and materials often through the online application system. The burden of responsibility rests with the applicant to see that all materials are submitted as early as possible to enable the admissions committee to make a thorough and fair evaluation. Incomplete applications will not be considered. All materials must be received or postmarked by December 1 for the following academic year, Fall quarter start only.
Diversity
The University of California Santa Barbara remains committed to the recruitment, admission, and retention of a high-quality, diverse graduate student population. UCSB has developed a variety of diversity programs designed to encourage and support both prospective and current graduate students who have overcome economic or social disadvantage in pursuing their academic objectives and those who bring perspectives, research topics or career interests that advance the University's goals of excellence and diversity. Among Graduate Division goals is achieving a student population of men and women reflective of the population at large, inclusive of those traditionally underrepresented in various academic fields and of all socioeconomic levels, physical abilities, ages, religions, national origins, sexual orientations, and other attributes.
Additional Program Information
Time-to-Degree Standards
For the MA/PhD program, four years for the MA, five years maximum for Advancement to Candidacy and eight years total for the PhD. For applicants entering with an MA/MS degree, the timeline is MA in four years, Advance in four years, and PhD in seven years. Specific requirements for each Graduate Degree Program can be reviewed through our Guidelines.
Funding will vary depending upon availability and applicant merit. UCSB Central Fellowships for prospective new students are offered through the Graduate Division by department nomination, usually in February following the close of applications. These awards can include fees, health insurance, teaching or research assistant positions, tuition, and/or stipends.  The duration of these fellowships range from one quarter up to 5 years. Departmental funding awards are similar, but are typically offered for shorter durations of time (i.e., one or two years).  These awards are offered to those who do not qualify for Central Fellowships.
FAFSA
Domestic students also file with FAFSA (Free Application for Federal Student Aid) as additional support may be available through the Financial Aid Office.
Continuing Student Awards
Awards made to continuing students are made annually in the Spring quarter for the following academic year based on annual evaluations. Funding is limited, competitive and based on merit.
Cost of Attending
Access the current Tuition Fee Schedule here. For an estimation of your entire on and off campus costs, see the Cost of Attendance estimator.
Housing
Access information about University Housing for graduate students here.
Non-Resident Supplemental Tuition (NRST)
All non-California residents (domestic and international) will pay additional Non-Resident Supplemental Tuition (NRST). As of 2022-2023, the amount for NRST is $15,102.00 per year. Domestic out-of-state students establish California residency after their first year to avoid continued payment of NRST. The International Doctoral Fellowship Program will provide for the payment of NRST for all international doctoral students beyond their first year of residency who have not yet Advanced to Candidacy.  Then, upon Advancement to Candidacy, students will receive three calendar years exemption from NRST.
PhD Alumni Job Placement
Access data of the job placement of PhD recipients from our Department here