Event Date:
Monday, April 30, 2018 - 4:00pm
Exploring the Egyptian Revolution and Health Politics Through Comics: the making of "Lissa": an ethnoGRAPHIC story

 

Sherine Hamdy will discuss her move from medical anthropological research to working on creating a graphic novel, featuring women from extraordinarily different circumstances each facing a medical decision the other can't understand. 

Lissa

, which takes place against the backdrop of Egypt's popular uprisings, is informed by Hamdy's ethnographic research in Egypt on the vulnerabilities that expose people to kidney and liver disease, and the difficulties of accessing proper treatment. The work also draws on Coleman Nye's research in the U.S. on the social and political calculus of managing genetic risk for breast and ovarian cancer within a commercial healthcare system. This graphic work of "ethnofiction" tells the story of an unlikely friendship between Anna, the daughter of an America oil company executive living in Cairo, who has a family history of breast cancer and Layla, the daughter of the bawab of Anna's apartment building, who grows to become a resolute physician struggling for better public health justice and rights in Egypt. Following the women as they grow up together and grapple with difficult medical decisions, the project explores how different people come to terms with illness and mortality against the backdrop of political, economic, and environmental crises. 

 

Sherine Hamdy 

is an Associate Professor of Anthropology at the University of California, Irvine, where she joined the faculty in the Fall of 2017, after being a professor for eleven years at Brown University. She received her Ph.D. in 2006 from New York University Department of Anthropology. Her first book 

Our Bodies Belong to God: Organ Transplants, Islam, and the Struggle for Human Dignity in Egypt 

(University of California, 2012) received Honorable Mention from the 2013 Clifford Geertz Prize from the American Anthropological Association's Society for the Anthropology of Religion. Her book project Doctors of the Revolution, co-authored with Soha Bayoumi (Harvard) critically engages with physicians' roles in the recent political upheavals in the Arab world. She is also the Series Editor for University of Toronto Press' ethnoGRAPHIC series, of which Lissa (co-authored by Sherine Hamdy and Coleman Nye) is the debut graphic novel.?
This Film and Media Studies Colloquium event is co-sponsored by the Center for Middle Eastern Studies and the Department of Anthropology.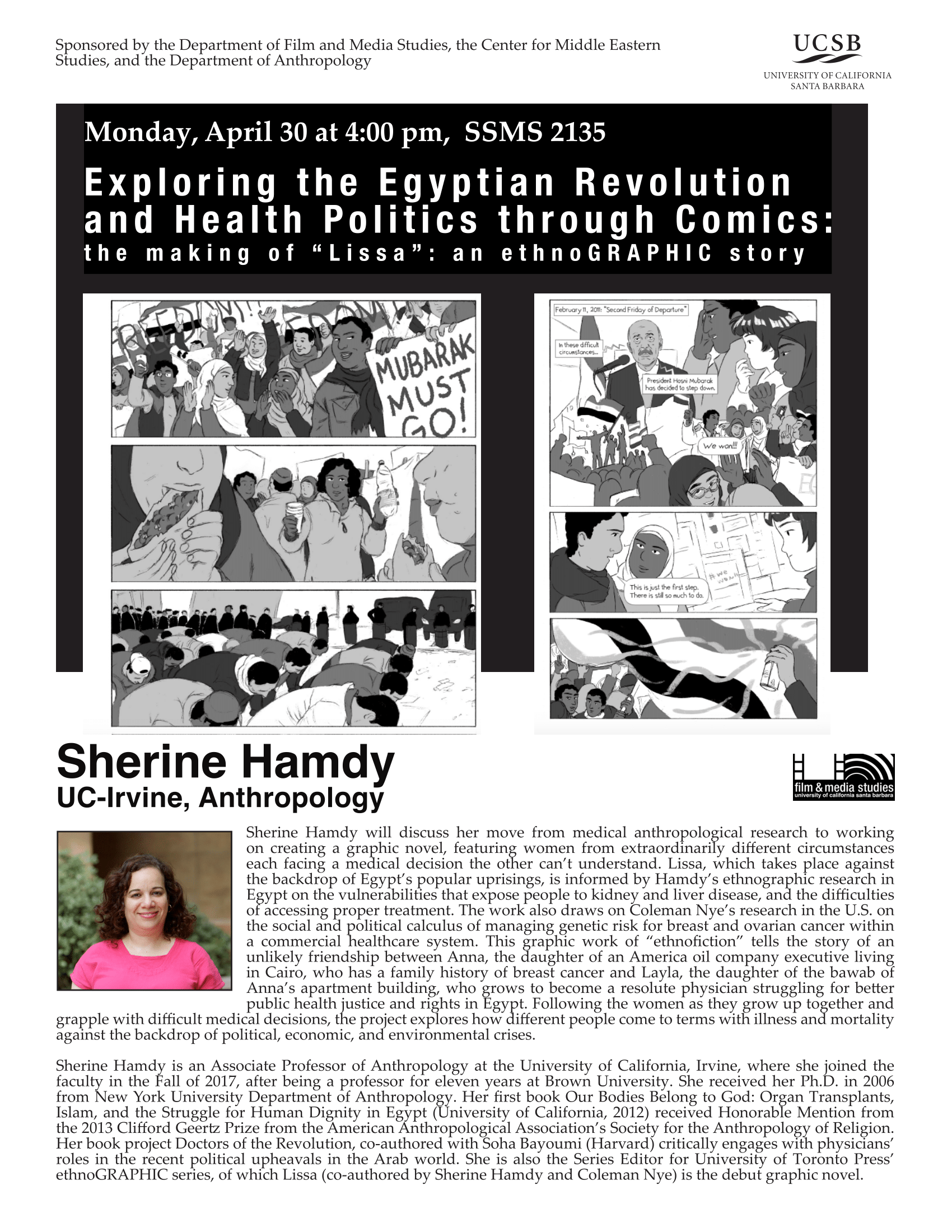 April 17, 2018 - 1:13pm