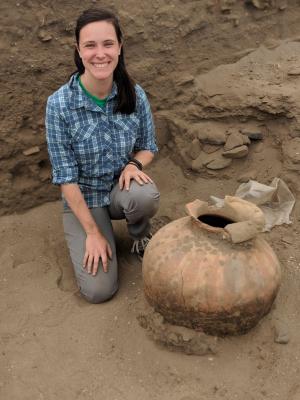 Specialization
:
Archaeology
Environmental Archaeology
Paleoethnobotany
Zooarchaeology
Historical Ecology
Coupled Human-Natural Systems
Socio-Ecological Knowledge
Culture Contact
Foodways
New World Archaeology
Publications
:
Haas R., Watson J., Buonasera T., Southon J., Chen J.C., Noe S.J., Smith K., Llave C.V., Eerkens J. and Parker G.,
(2020) Female hunters of the early Americas. Science Advances, 6(45), peabd0310.
Haas R., Buonasera T., Chen J., Eerkens J., Noe S.J., Parker G., Smith, K., Viviano C. and Watson J.,
(2020) March. Behavioral adaptations to life in the interior high Andes, 9-7ka. In American Journal of Physical Anthropology 171:110-110
Noe S.J.,
(2021) Zooarchaeology of Mission Santa Clara de Asís: bone fragmentation, stew production, and commensality. International Journal of Historical Archaeology, pp.1-43.
Hixon S. W., Domic A. I., Douglass K.G., Roberts P., Eccles L., Buckley M., Ivory S., Noe, S.J., Kennett D.J.,
(2022) Drought, Fire, and Modified Megafaunal Bone: Insights from Three Coastal Ponds in SW Madagascar. Under Review Scientific Reports.
Noe S.J.,
(2023) Subsistence and Persistence: Indigenous Foodways within Mission Santa Clara de Asìs. California Archaeology
Noe S.J., Wilson G., VanDerwarker A., George R., Kennett D.,
(Submitted) Deer, Drought, and Warfare: Managing Risk in the Central Illinois River Valley (CIRV) from the Eleventh through Fourteenth century. Quaternary International
Noe S.J.,
(Submitted) Indigenous Foodways as Persistence in the Alta California Mission System. American Antiquity
Noe S.J., Hass R., Aldenderfer M.,
(In prep) Managing Risk in High Altitudes: Archaic Period (10,000-3,200 BP) Hunting Strategies in the Lake Titicaca Basin. Latin American Antiquity